Doug Burns has spent 4 weeks in our Ottawa office and now he is back home to Madeline and boys. Yesterday, before he left, we had the lunch at Cock & Lion Ale House:

Food wasn't the best for me (I got fish and chips) – but very nice and cozy place and they did have Guinness as well as plenty of other beers so I can't complain: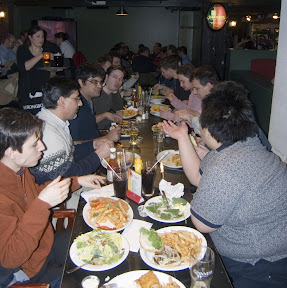 To put the names on the faces – left to right – Christo, Karun, Raj, Paul, Martin, Mark, Igor, Julien, Marc, Virgil, Doug, and Singer.
While Doug was here we'd got a team split and he ended up in the new team (8) with me and Karun. Needless to say that's a real pleasure for me to work with these guys. I hope they won't be complaining too much about me. :-)
Let's see if Doug could get some work done from home. ;-) I wouldn't.
Want to talk with an expert? Schedule a call with our team to get the conversation started.