You are following the blog than you might recall that I'm going to make a presentation on the Miracle Scotland Database Forum 2007. My presentation is called RAC load testing adventures and it's based on a project I've been through with one of our clients.
Courtesy of my good mate, Doug Burns, I arrived a little earlier – yesterday. Instead of getting Doug to pick me up we agreed that I just take a bus to the city center instead of splitting his day into two small parts.
When I was boarding the bus a bagpiper was playing next to it I really felt like I was in Scotland:



Interesting that even the CCTV recording the bus was mounted inside a tartan: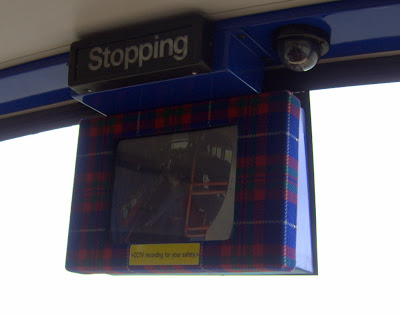 By the way, Edinburgh is full of those CCTV recording cameras installed supposedly for our security but I don't feel comfortable that someone can track every step as I'm wandering around.
Do I need to mention that the weather was better than what I expected from Scotland? Right. There was no rain even though it was a bit chilly and cloudy. I enjoyed the 40 minutes walk – the city is very nice. It was a bit longer than 20 minutes that Doug suggested originally as I walked the wrong way from the bus even though Doug explicitly said that I should keep going along the way of the bus. These d…mn buses stop on the wrong way of a street in this country. There was only one negative thing that bothered me – those d…nm buses throw out so much smoke that breathing gets a bit difficult around Princess Street especially when you need to go uphill.
Anyway, we finally met up and after I dropped my things we had a quick lunch and started our beer crawl having a pint of various ales at every pub we encountered and some of them were actually quite nice. I should also notice that we managed to get me measured if you know what I mean. Finally, I started to feel a bit dizzy after a 10 hours flight and 6 hours timezone difference but not an awfully bad jet lag. So we've got the best fish and chips in the town and finally showed up at Doug's place and I met Doug's princess, Madeleine. She went to bed quite early after a long exhausting day and I didn't realize that I won't see her next day so I didn't even say a final bye-bye. I'm very sorry for that.
Actually, it's probably good that she didn't see me in the morning — she might have wanted to kill me as we were watching the hockey until almost 4am. Boy, that was a good game! Ducks were very good and Sens had a really tough job to kick those guys. Unfortunately, in the last minutes, purely by chance, Ducks scored and Sens didn't manage to get it back to even even though they almost managed it. Bad news but still "GO SENS GO".
I made the photo of my bedroom this morning — I was very privileged to sleep in the same room with this: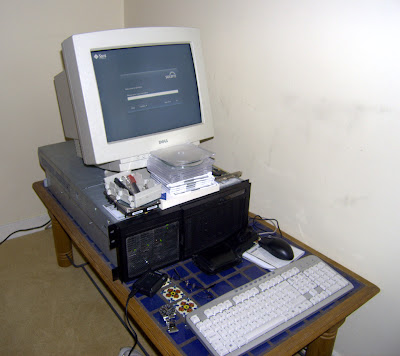 Apparently, I was sleeping in the server room. Fortunately, they were off during the night and the whole morning so that I could sleep until 1pm. That's right, 1pm! Seems like I really needed that good sleep. I'm just like new now and about to leave to the High Street – check-in and meet some people. Stay tuned – more to come.
Want to talk with an expert? Schedule a call with our team to get the conversation started.